Upcoming Events
Saturday, September 7, 2013

Bell Harbor International Conference Center
What's New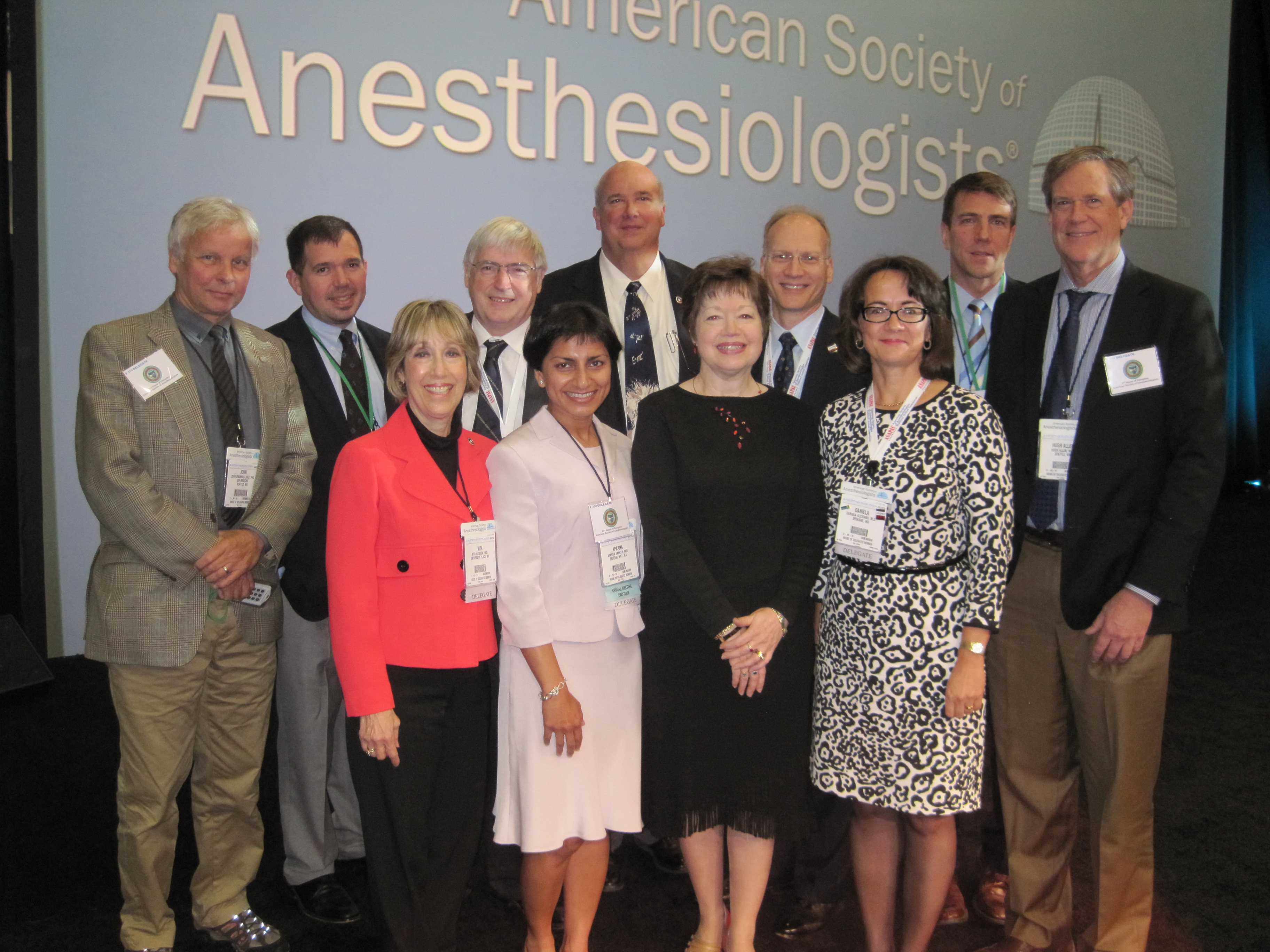 WSSA's delegation to the ASA House of Delegates proudly met with the northwest's own Jane Fitch, MD, ASA President-Elect, in DC in October. Pictured are WSSA leaders (front row) Vita Pliskow, MD; Aparna Ananth, MD; Dr. Fitch; Daniela Alexianu, MD. (Back row) John Bramhall, MD; M. Sean Kincaid, MD; Peter Dunbar, MD; Mark Flanery, MD; James Stangle, MD; James Burkman, MD; and Hugh Allen, MD.
---
ER is for Emergencies:
Reducing Preventable Emergency Room Visits
The WSMA, the Washington State Hospital Association (WSHA), and the Washington State Chapter of the American College of Emergency Room Physicians (WA-ACEP) were successful recently in getting the state to abandon its "zero tolerance" policy that would have denied Medicaid emergency visits and cut hospital and physician payments. The coalition instead proposed an alternative plan that protects patient safety while addressing the root of the inappropriate use problem—inadequate access to primary care, chronic medical conditions, and substance abuse issues.

Information can be found on all three coalition member websites; learn more about the alternative plan and how you can help make it successful:
WSMA
WSHA
WA-ACEP

Read the following articles for more information:
7 Keys to Reducing Preventable Emergency Room Visits
4 Key Ways Primary Care and Community Physicians Can Help Reduce Unnecessary ER Visits


LINKS
WSMA Health Benefit Exchange
Visit the Legislative/Regulatory page for more information.

MEMBERS ONLY Join Now Renew Now
About the WSSA
Founded in 1948, the WSSA was formed to advance the science and art of anesthesiology, and to stimulate interest and promote progress in that specialty. It is a Washington State Non-profit Corporation, and is a component society of the American Society of Anesthesiologists. Read more...