Upcoming Events

Save the Date:
Joint WSSA/BCAS Winter Meeting
December 5-7, 2014
Renaissance Vancouver Harbourside Hotel, Vancouver, BC

Book your hotel room today! Discounted rates expire on November 5th!

Affiliate Event:
ASA Quality Meeting - Register by September 30 for Early Bird Rate!


What's New
Nurse anesthetist care not equal to physician anesthesiologist-led care, comprehensive evidence-based review finds, American Society of Anesthesiologists® calls for further examination. Chicago - (August 19, 2014)
IMPORTANT: LAW CHANGE
Effective July 28, 2013, all Schedule III through V controlled substances must be dispensed pursuant to a written, oral, or electronically transmitted prescription. This law supersedes WAC 246-887-030, which allowed for the dispensing of certain Schedule V substances without a prescription.

SB 5416 – Chapter 276, Laws of 2013
RCW 69.50.308 Prescriptions.
(3)(e) Except when dispensed directly by a practitioner authorized to prescribe or administer a controlled substance, other than a pharmacy, to an ultimate user, a substance included in Schedule III, IV, or V, which is a prescription drug as determined under RCW 69.04.560, may not be dispensed without a written, oral, or electronically communicated prescription of a practitioner. Any oral prescription must be promptly reduced to writing.
(3)(f) The prescription for a substance included in Schedule III, IV, or V may not be filled or refilled more than six months after the date issued by the practitioner or be refilled more than five times, unless renewed by the practitioner.
Beginning July 28, 2013, the practice of providing certain C-V substances without a prescription will no longer be permitted (i.e. codeine containing cough syrups logged in exempt narcotic register).


---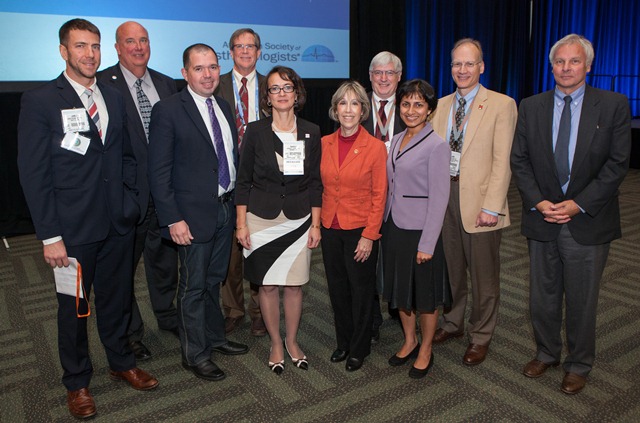 WSSA's delegation to the October 2013 ASA House of Delegates in San Francisco included Drs. James Burkman, Mark Flanery, M. Sean Kincaid, Hugh Allen, Daniela Alexianu, Vita Pliskow, Peter Dunbar, Aparna Ananth, James Stangl and John Bramhall.
---
ER is for Emergencies:
Reducing Preventable Emergency Room Visits
The WSMA, the Washington State Hospital Association (WSHA), and the Washington State Chapter of the American College of Emergency Room Physicians (WA-ACEP) were successful recently in getting the state to abandon its "zero tolerance" policy that would have denied Medicaid emergency visits and cut hospital and physician payments. The coalition instead proposed an alternative plan that protects patient safety while addressing the root of the inappropriate use problem—inadequate access to primary care, chronic medical conditions, and substance abuse issues.

Information can be found on all three coalition member websites; learn more about the alternative plan and how you can help make it successful:
WSMA
WSHA
WA-ACEP

Read the following articles for more information:
7 Keys to Reducing Preventable Emergency Room Visits
4 Key Ways Primary Care and Community Physicians Can Help Reduce Unnecessary ER Visits


LINKS
WSMA Health Benefit Exchange
Visit the Legislative/Regulatory page for more information.